10th Nov 2022
Abbey Supply's Airsoft Christmas List 2022
First up is our popular Predator Ultra Gas. Available in both a Large 700ml bottle as well as smaller 270ml bottles, ideal for in-game use. Being our mid-power airsoft gas it is designed to keep your Rifles muzzle energy in check whilst playing in warmer climates. However, it can also help to raise the muzzle energy of plastic, lightweight pistols in colder weather.
It also contains a special suspended lubricant which is there to prevent the gas from settling, meaning there is no need to shake before use, and constantly keeps O-rings fresh and sealed whilst the magazine is charged.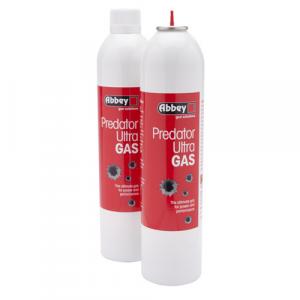 Next, we will be talking about our anti fog spray. When the cold weather starts to mist up your goggles, wiping them with your sleeve will not cut it mid game. That's why it's important to prepare before you get into that situation. This non-soapy spray leaves a thin layer on the surface of your lens which breaks down surface tension that normally allows misting to form on cold surfaces.
You apply it by simply spraying it on the desired lens and wiping away, leaving a visible layer (do not polish off).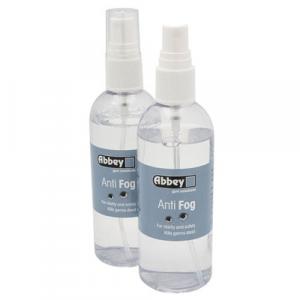 Our Multi-Coated Lens Cleaner is an extremely versatile spray that can demist your equipment to restore your vision without leaving any smears. This benefits not only your goggles but can also be used on your glasses and scopes to help your vision on the battlefield over long periods of time.
They also work to prevent dirt and moisture droplets from attaching to your lenses and obscuring your vision making them a must have in the wet environment of winter airsoft.
To use the lens spray properly you will need to apply fully and wipe off any mist or dirt. This is where the Abbey Lens Cloth comes in. Using your dirty top or sleeve can scratch your goggles and lenses which is why we provide a microfiber cloth to gently and effectively clean the surface.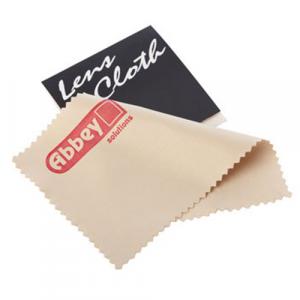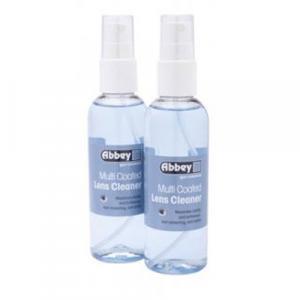 Whilst our Lens cloth is Perfect for the softer transparent surfaces you need to see through it cannot be used on your gun for example. This is where our Sportsman cloth comes into play. It is highly versatile and can be used to clean anything from your gun, rods, magazines or even none airsoft equipment such as golf clubs, bikes and auto accessories. Making this an ideal gift for not just an airsofter but any person who enjoys outdoor sports with equipment that can get muddy.
Our first gun care product on the list is our silicone-based lubricant, ideal for gas, electric and spring airsoft guns as it offers multiple forms of protection and care to your gun. From forming a protective barrier against dirt and other fouling elements to rejuvenating o-rings and keeping plastic components lubricated.
Due to it being silicone based it will remain on the surface of your weapon over time without drying out, unlike many other mineral based oils on the market, meaning it will last you longer. It also comes in both a 30ml dropper bottle as well as a 150ml spray can, giving you the versatility to use it for any application.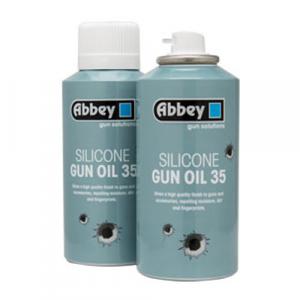 As anyone could imagine, there are allot of fast moving parts when it comes to airsoft guns which causes allot of friction and heat. Over time this friction will ware the gun parts down and affect the performance or even become dangerous to use. Our Silicone gun grease will not degrade over time leaving a constant fluid layer covering the desired areas to protect against this damage. It's inert properties mean it wont damage your gun over time either making it a perfect gift for anyone who cares about their equipment.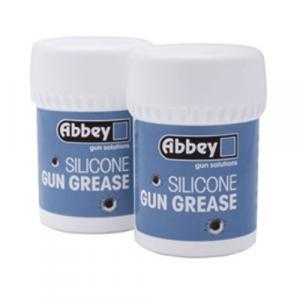 The new and improved packaging for our Airsoft Cleaning Wipes make application in the field even easier and reduces waste to make it last longer! Each pack now comes with a bottle of non-silicone based liquid which you can simply add a small amount to soak the outer wipes and repeat if necessary.
You can then use them to remove any moisture or contaminants from your barrel without leaving any sticky residue which may affect the flight of the BB.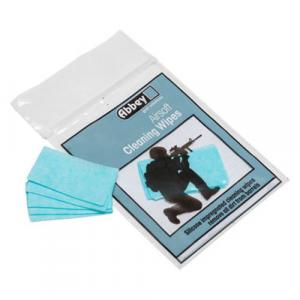 Last on our list but by no means least is our Abbey Degreasing Spray, recommended for servicing traditional guns it more than meets the standards for airsoft use. It will quickly remove mineral and silicone based greases for efficient servicing and maintenance before use, after use and before bluing.
It is also useful for removing silicone based abbey products when you need to apply a new clean layer.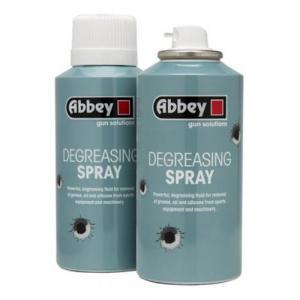 Those are just some of the products which we recommend you add to your Christmas list or get for an airsofter because being able to maintain the equipment you have already is just as important as getting a new gun once yours does not perform as wanted anymore and far cheaper in the long run.
Why not brows our airsoft products to find out more about each of them or get some of your own at your nearest Abbey Distributor.