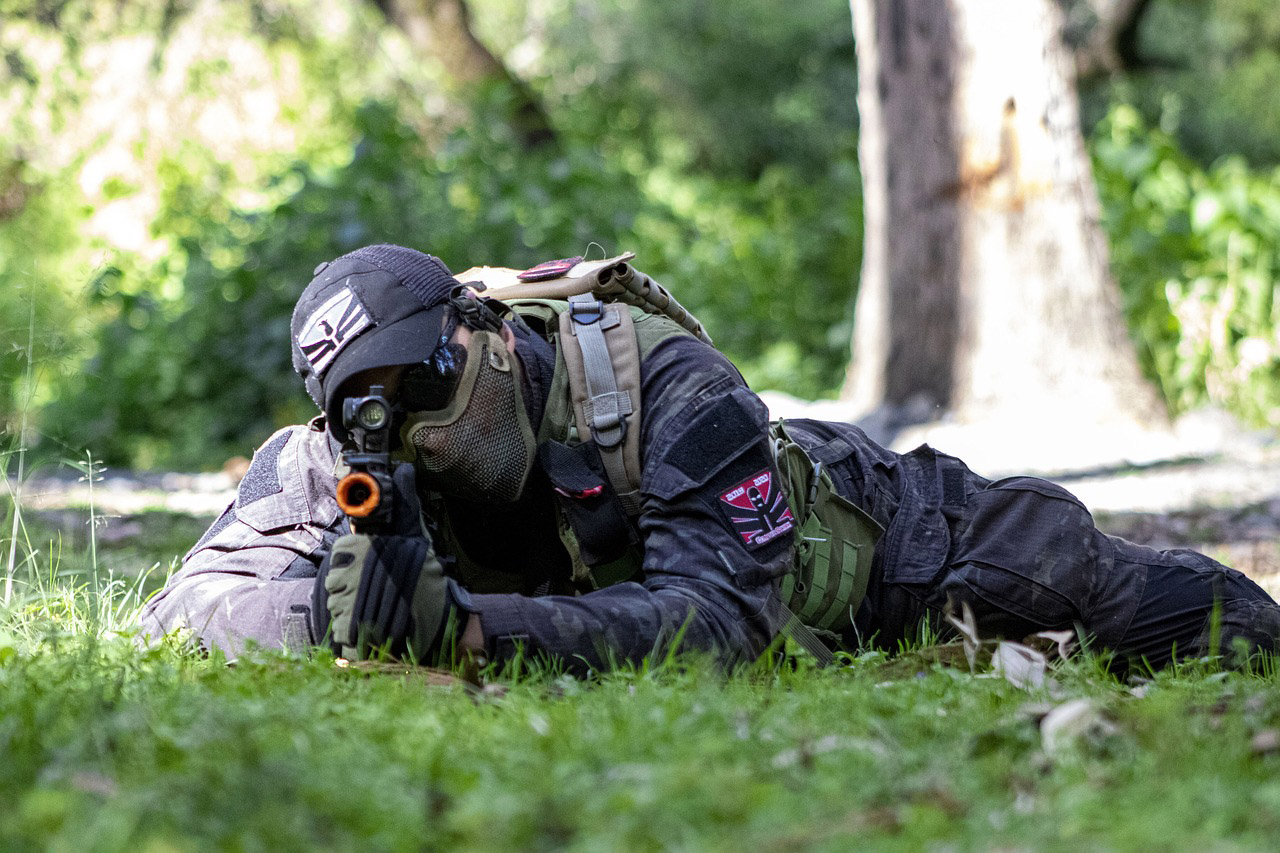 30th Jun 2023
The Best Places To Play Airsoft in the UK
Airsoft is a popular sport in the UK, and there are numerous locations around the country where players can engage in battles and experience the adrenaline rush that it offers.
The best airsoft fields in the UK provide a range of environments, from dense woodland to open fields, and feature a variety of scenarios that test players' skills and strategies.
Here are some of the best and most highly-rated places to play airsoft in the UK.
Ground Zero Airsoft – Ringwood
Ground Zero Airsoft is located within the private grounds of Somerley Estate in Ringwood, Hampshire. The site is renowned as a highly popular and diverse airsoft venue in the UK, covering 150 acres of varied terrain. Players can enjoy an immersive and exciting gaming experience, with bases and structures strategically placed throughout the woodland, participants can engage in a wide range of gameplay styles. Whether players prefer a tactical approach, long-range sniping, or intense close-quarters combat, Ground Zero caters to all preferences.
Additionally, Ground Zero provides a comprehensive range of on-site facilities, including food and drink, airsoft consumables, equipment rentals, and repair services. With a team of experienced staff and marshals, players of all ages and skill levels are warmly welcomed into the airsoft community at Ground Zero Airsoft. Furthermore, the site hosts the annual National Airsoft Festival, transforming the venue into one of the UK's most popular airsoft events. For those seeking weekend or school holiday games, Ground Zero offers a variety of gameplay options.
Skirmish Wycombe Airsoft
Skirmish Wycombe Airsoft is a premier destination for airsoft enthusiasts seeking a thrilling experience. Conveniently located near junction 4 of the M40, the site offers extensive grounds with a natural undergrowth setting and bespoke airsoft arenas, guaranteeing an immersive adventure.
The knowledgeable team at Skirmish Wycombe Airsoft ensures that players are provided with exceptional gameplay and tactical challenges. State-of-the-art facilities contribute to the realism and excitement, creating a unique airsoft setting.
The carefully designed arenas suit players of all skill levels, seamlessly blending with the natural surroundings. Friendly and professional staff prioritise visitor satisfaction, aiming to exceed expectations and create lasting memories. Skirmish Wycombe Airsoft offers it all. From thrilling gameplay, affordable pricing, and exceptional service combine – this airsoft site delivers an experience that will leave you craving more.
Invicta Battlefield – Staplehurst

Invicta Battlefield, located in Kent, is an outstanding airsoft site that offers an exceptional gaming experience. Situated in a historic military base, the site provides a unique and immersive setting for players of all skill levels. With a diverse range of game zones, including urban environments, dense woodland, and open fields, Invicta Battlefield offers a variety of tactical challenges and gameplay scenarios.
The site's attention to detail is evident in its well-constructed structures and realistic props, enhancing the overall experience. The dedicated staff and marshals prioritise safety and professionalism, ensuring that players have a fantastic time while adhering to strict safety protocols. With its convenient location, immersive environments, and commitment to a high-quality airsoft experience, Invicta Battlefield is a top choice for airsoft enthusiasts.
Combat Airsoft – Norfolk
Combat Airsoft is not your average airsoft venue, it's a place that goes above and beyond to deliver exciting airsoft action. Located in Thetford Forest, Norfolk, with convenient access to the A11, the purpose-built venue is designed specifically for airsoft gameplay. Whether you prefer casual games or full-scale military simulations, Combat Airsoft caters to all play styles.
The site boasts top-class facilities, including an on-site shop, canteen serving hot food, WC facilities, charging station, and fully covered seating areas. With over 120 acres of beautiful woodland, Combat Airsoft offers massive game areas that can be combined for even more diverse and exciting missions. Creature comforts are also a priority, with covered seating areas, free battery charging and HPA air fills, and vending machines. Combat Airsoft truly goes the extra mile to ensure your airsoft experience is exceptional in every way.
West Midlands Airsoft
West Midlands Airsoft offers an unforgettable airsoft experience, catering to both seasoned professionals and first-time players. As a UKARA Registered Site, they have built a strong reputation for excellence in the airsoft skirmish industry. With customer satisfaction as their top priority, West Midlands Airsoft provides a superb gaming experience at their Indoor CQB site in Birmingham.
They offer a wide variety of game styles, ranging from intense and immersive battles to longer objective-based missions. Players of all abilities and styles are accommodated, ensuring everyone can participate, from newcomers to experienced veterans. In addition to individual experiences, West Midlands Airsoft also offers corporate team-building activities and parties for special occasions, such as stag and hen parties or birthdays. Embark on a stimulating, challenging, and enjoyable adventure with West Midlands Airsoft.
Pheonix Airsoft – Nottinghamshire
Phoenix Airsoft, located in the heart of Sherwood Forest, offers an exceptional airsoft experience filled with action and fun. Hosting various events ranging from standard skirmishes to special themed games, including night games and extended 24-48 hour milsim sessions.
Whether you're an individual player or part of a group, Phoenix Airsoft has you covered with their diverse range of packages. Weekend games are held every Saturday, Sunday, and Bank Holiday Monday, providing opportunities for exciting skirmish events or themed games. Additionally, Phoenix Airsoft offers individual or group hire and play packages, providing a full day of non-stop airsoft action with all the necessary equipment included. Phoenix Airsoft ensures that players have a wide selection of gear to choose from amidst the beautiful surroundings of Sherwood Forest.
Skirmish Central - Buckinghamshire
Skirmish Central is one of the largest airsoft fields in the UK. The site is set on 700 acres of land and features varied terrain, including dense woodland, open fields, and urban environments. Located near Northampton, Bedford, and Milton Keynes, it is a highly regarded and trusted venue for outdoor activities. With over 35 years of experience, Skirmish Central excels in providing thrilling Paintball, Airsoft, Lasertag, and more. The venue consistently receives glowing 5-star online ratings and positive feedback from satisfied customers.
Offering a wide range of activities, Stag & Hen Parties, and dedicated Airsoft events, Skirmish Central ensures an action-packed day for players of all levels. Whether bringing their own equipment or renting from the extensive Airsoft Rental range, participants can enjoy top-quality gear. Skirmish Central is one of the go-to destinations for airsoft and other unforgettable outdoor adventures.
Worthing Airsoft
Worthing Airsoft is a well-established woodland site in southern UK, committed to providing customers with safe, exhilarating, and enjoyable scenarios. With a strong focus on delivering challenging objectives, the aim is also to maximise field time to ensure a worthwhile experience. With a friendly and experienced marshal team, Worthing Airsoft guarantees a fantastic day of play for all participants.
Spanning across 45 acres of diverse terrain, including thick woodland and multiple bases, the site offers ample space for intense warfare. New game formats and theme days are regularly introduced to provide variety and to keep things fresh and exciting. The site is continuously evolving, with ongoing developments that include the addition of new bases and revitalised areas. Worthing Airsoft is one of the best of its kind in the UK for authentic woodland airsoft gameplay and experiences.
Conclusion
The above is just a small hand-picked selection of places to play airsoft. The UK has some of the best airsoft fields in the world, offering a range of environments and scenarios that test players' skills and strategies. Whether you're a beginner or an experienced player, there is a field for everyone.
When choosing an airsoft field, it's important to consider the terrain, game scenarios, and safety regulations. So, grab your gear and head to one of these top airsoft fields in the UK for an unforgettable experience.