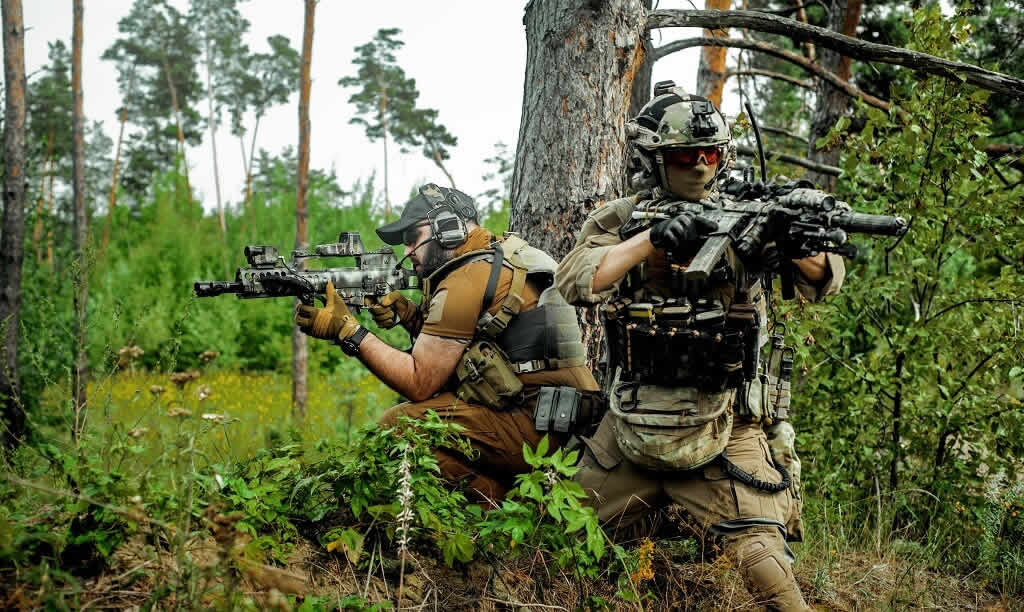 3rd Aug 2023
Airsoft Events and Festivals in the UK
Airsoft is an exciting recreational activity that has grown in popularity in the UK. The community of airsoft enthusiasts have a great calendar of annual events to attend where players can gather and celebrate the sport.
Airsoft events and festivals in the UK offer fantastic opportunities to engage in organised games, meet fellow players, and showcase skills. These events vary in size, duration, and style, providing diverse experiences for participants.
Here are a few notable airsoft events and festivals in the UK…
The National Airsoft Festival
Held annually in August at Ground Zero Airsoft, one of the UK's largest and most diverse airsoft venues, The National Airsoft Festival has a rich history dating back to 2007. Over the years, it has grown to become the ultimate airsoft event of the year, offering a fantastic festival atmosphere.
The festival brings airsoft enthusiasts from all over the UK and Europe together for an unforgettable weekend in Ringwood, Dorset. With each year, the event gets bigger and better, featuring exciting events, in-depth gameplay, and a strong sense of camaraderie. The focus is on providing a fantastic all-round experience, both on and off the field, with a friendly, clean, and fully facilitated atmosphere in the safe zone.
The National Airsoft festival is nestled in the heart of the Dorset countryside, with expansive fields and diverse terrain. Conveniently situated just minutes from the main travel routes, accessing the venue is straightforward whichever direction you're coming from.
Whether you are a seasoned player or new to airsoft, the National Airsoft Festival will offer a warm welcome to you and your team for a thrilling weekend of airsoft fun. Attending what is the largest airsoft gathering of the year in the UK is a must and highly recommended!
Midlands Airsoft Fair
The Midlands Airsoft Fair is one of the must-attend events in the local airsoft community. Originally known as Airsoft Boot Fair-Midlands, it has evolved into a highly popular gathering held at Newark Showground. This larger venue offers excellent transport links, ample free parking, site-wide WiFi, and on-site catering.
At the Midlands Airsoft Fair, you'll find everything you need, whether it's a new or used RIF, tactical gear, accessories, or military equipment. The event caters to all styles of airsoft play, from Speedsofters to Milsim. Each year, the fair keeps growing and adding new attractions, promising an exciting experience for all attendees.
For the latest details, stay tuned to the Midlands Airsoft Fair social media channels. Don't miss out on this incredible gathering of airsoft enthusiasts!
Airsoft Plantation Weekenders
Airsoft Plantation offers exceptional weekend events in Essex. With over 10 years of experience, they have fine-tuned their gameplay to cater to players' desires.
The weekenders include camping within the game zone, exciting scenarios, competitions, and more, making them highly acclaimed worldwide. Special events are pre-book only and feature theme-based activities. These events offer immersive crime and military-based gameplay, providing a full-on weekend experience with night objectives, food, and camping.
Check out their website and social media for upcoming event details. Don't miss out on one of the best-organised airsoft events in the UK!
Gunman Airsoft Midlands (GAM) Big Weekenders
The action-packed GAM Big Weekender 2023 at The Grange in Balsall Common is held during August Bank Holiday. This event guarantees non-stop excitement with a lineup of story-driven airsoft games, creating an immersive experience that challenges your tactical skills and unleashes your competitive spirit.
Evenings become a mix of relaxed camaraderie and good food, with plenty of time for laughter, beer, and BBQ. Enjoy onsite camping with facilities, an open bar, and a Saturday night BBQ included in your ticket.
Check their Facebook page for updates on the mission brief and game details. Choose your faction, pick your unit, and get ready for an unforgettable airsoft experience!
Other types of airsoft events in the UK
The UK airsoft scene offers a wide variety of events that cater to every enthusiast's sense of adventure and levels of interest. Throughout the year, airsoft enthusiasts up and down the country can immerse themselves in a diverse range of experiences.
For those looking for quick and intense skirmishes, the dynamic skirmish/open day events provide thrilling action, while speedsoft competitions challenge players' speed and precision. For a more immersive experience, Battlesim scenarios put participants into complex storylines, testing their strategic thinking. Milsim events take realism to another level, replicating military operations with meticulous attention to detail.
Additionally, special events such as night ops bring a new level of intensity under the cover of darkness, while Infestation scenarios deliver a unique twist on conventional gameplay. Historical reenactments transport players to different eras, allowing them to relive moments from the past on the airsoft battlefield. With this spectrum of events, the UK airsoft community is a testament to the passion and creativity that define the sport.
These are just a few examples, and there are many more airsoft events held throughout the UK.
To stay updated on upcoming events, it is recommended to follow airsoft forums, social media groups/pages of local airsoft fields, and websites dedicated to airsoft event listings.