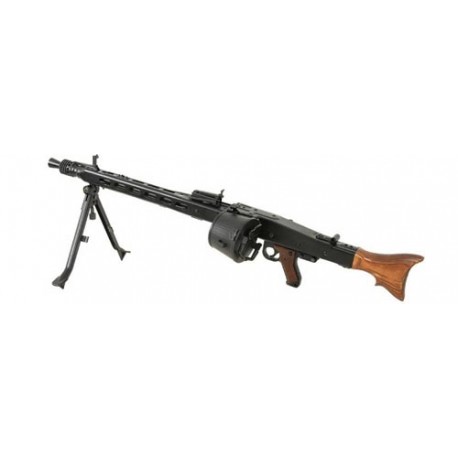 23rd May 2016
5 Most Expensive Airsoft Guns You Can Buy
Airsoft is a great sport to get into, with value friendly gear and rental facilities to help newer players, as well as those on a tighter budget get into the sport.
However, for those willing to splash the cash on more premium gear, airsoft also has a plethora of super high performance weaponry, as well as some more over the top options to choose from.
We've chosen a few of the most interesting and expensive airsoft guns on the market to give you a taste of what's on offer.
The Most Expensive Airsoft Guns
Custom "Optic Thunder" M4 - £7,104
Systema PTW M4A1 - £1,775
Echo1 M134 Minigun - £2,482
RWA MG34 Machine Gun - £1,051
VFC Umarex HK 417D Rifle - £788
For more information on each of these guns, take a look at our analysis below.
Evike Custom "Optic Thunder" M4 Airsoft AEG Rifle - £7,104
We'll start this list off with the pièce de résistance: The Evike Custom "Optic Thunder" M4 Airsoft AEG Rifle features just about every attachment under the sun and comes complete with seven scopes, Integrated grenade launcher and…tactical spork.
Ok, so this weapon was clearly created as a fun way of getting as many attachments as possible onto a standard M4 Rifle, but it still stands as a testament to the customization options available to airsoft players the world over.
Systema PTW Professional Training Weapon M4A1 Mad Max Evolution - £1,775
More than just an impressively long name, the System PTW is based off of the popular M4 body and is precision engineered from extremely high quality, custom parts.
Mad Max is able to achieve extremely high FPS of over 460 which ensures you have all the power you need to deliver accurate shots on your enemy.
Electric Echo1 M134 Gatling style Minigun - £2,482
What list of outrageous airsoft guns would be complete without mention of this monster weapon?
The M134 comes in at over 30 pounds and can achieve over 500fps, making this a truly intimidating (if incredibly heavy) weapon to deploy on the battlefield.
For those who are willing to shell out the cash, the M134 serves as a great addition to a Support Gunner's arsenal and is perfect for laying down suppressive fire on the enemy – just make sure you don't run out of BBs!
RWA MG34 Machine Gun - £1,051
A real blast from the past, this gun is a highly detailed replica of the German-made Maschinengewehr 34 used extensively during the 1930s and considered to be the most advanced weapon of its type at the time of production.
A high rate of fire (20 rounds per second) coupled with an enormous 1,500 round capacity make this a great weapon to keep enemies at bay during a frantic skirmish and a more practical alternative to other much heavier support weapons.
VFC Umarex HK 417D Rifle
Gun fanatics will surely have heard of Hechler and Koch, the famous manufacturer of firearms.
This VFC remake of the HK417 is a premium Designated Marksman Rifle (DMR) which features a full metal construction and immaculate resemblance to the original real steel model.
The HK417D is also highly customizable with its long rail system allowing for the installation of numerous different attachments and the large 100 round magazine is sure to supply you with ample ammunition for long range firing sessions.
There are countless different airsoft remakes on the market today and we'd love to find more. If you've come across any unique, expensive or interesting weapons, let us know on our Facebook page by clicking here!