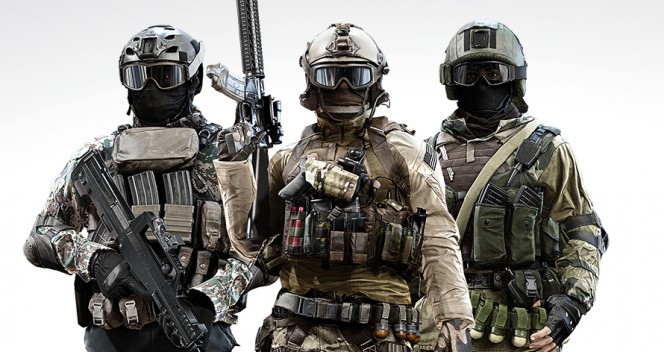 17th Feb 2017
Kit List: Battlefield 4 - US Assault Class
Airsofters love to replicate some of their favourite games in their real life kit. In this 'Kit List' series, we're looking at the gear and kit that goes into doing an accurate impression of the Battlefield 4 US Assault kit.
This loadout is a popular one for airsofters to do impressions on, as it's a modern one. This means that there's often a lot of reproduction parts and gear that can make this kit list attainable yet affordable.
Weapons
Let's start with the weapons that are being carried.
Primary: m16a4
Optic: Acog
Accessories: Original Magpul
Secondary: Glock 19
Holster: Safariland 6378USN Holster
Note: BF4 is a first person shooter game, where you can change your weapons very easily. Accurate impressions of this loadout could include any weapons from the game.
Head Gear
The headgear in this loadout is primarily from an Ops-Core FAST Helmet to protect the brain, 3M Peltor Comtac II Headset to protect the ears and ESS Profile NVG goggles to protect the eyes.
The headgear also has attached a long arm NVG mount (with no NVGs), most likely Norotos TATM. To complete the head portion of the impression, get yourself some sort of thin balaclava or snood.
The sides feature a number of mounts for different camera systems, namely Contour and the rear has a MS2000 IR Strobe.
TORSO
First is a Crye Precision G3 Combat Shirt, although any combat shirt or soft shell will work just as well. The gloves are argued to be Oakley FR Fast Rope Gloves in the game, although promotion material shows slightly different colours. The base plate carrier is a 6094 Plate Carrier, and has numerous additions for functionality and storage space such as:
Triple m4 single mag pouch - (Front Panel)
Double Frag Pouch - (Right side panel)
Double Pistol Pouch – (on top of m4 pouch)
Double 40mm Grenade Pouch – (Left Side Panel)
Cyalumes
Assault medical backpack – (Back panel)
Radio Pouch – (Left side panel)
Strobe Light – (Front)
Also attached to the plate carrier and headset is a u94 PTT system and a few other, standard, molle pouches and medical scissors.
Lower half
The waist primarily features a 40mm m203 grenade belt with a few M203 40mm shells, as well as a Rappelling Harness. The Waist section also features a "recon waist bag", A.K.A a fanny pack.
The trousers for this loadout are from the same company and range that produce the tactical shirt, Crye Precision G3 Combat Pants fitted with the Crye Precision AirFlex Knee Pads. Crye Precision make great, but expensive gear and there are plenty of replica brands that will serve just as well for airsoft use.
The boots for this loadout are Elite Desert Combat Boots made by LOWA.
TOTAL COST
So here's your shopping list, if you wanted to create this loadout for yourself using the most probable brands. It's important to note that this doesn't include guns, sidearm, magazines, batteries, ammo, under layers, or socks.
£4,067
Now get saving!
Here's the complete kitlist:
All images in this post are courtesy of Battlefield 4 Publishers: Electronic Arts and Developers: EA DICE.