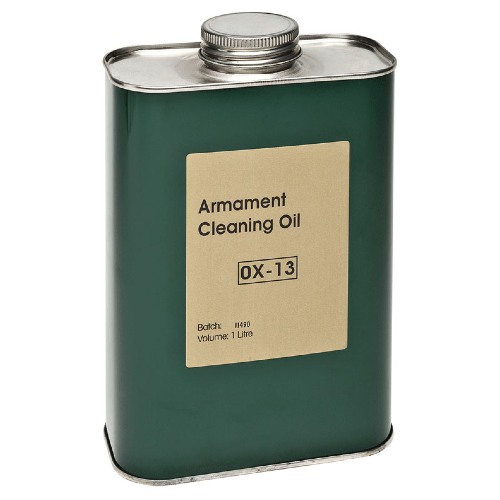 This product is produced from high quality highly refined oil. The advantage is that air does not easily get included into the oil and will quickly evaporate if it does by agitation, e.g. transport by tuck in rough conditions. Demulsification is the process of removing residual water from the base oil resulting in a higher quality product. All oil contains some air and water but our processes reduce this to minimal amounts, producing superior results in the field.
Careful selection of the additives used produce the required levels of antiwear, corrosion protection, and reduce oxidation (rusting) in military weapons. Initial cleaning will remove all residues of gunpowder and metallic fouling to protect from corrosion within the weapon. A final wipe of clean oil will protect from rain and water to stop rust forming. All parts having this protective film will be ready for operation and will considerably reduce wear on moving parts. Enhancing reliability and performance.
An important consideration in hot climates is the viscosity index which measures the reduction in viscosity with increase in temperature. A high viscosity index means that the viscosity does not significantly reduce when temperature rises from climate and/or rapid fire conditions.
The oil has been manufactured to continue its high performance in low temperatures as well. Very low temperatures require our aircraft Grade Weapons Oil.
The product is not flammable and has no additives hazardous to human health or the environment.
Whilst producing to these high standards our efficient production methods ensure rapid turnaround of orders at cost-effective prices.