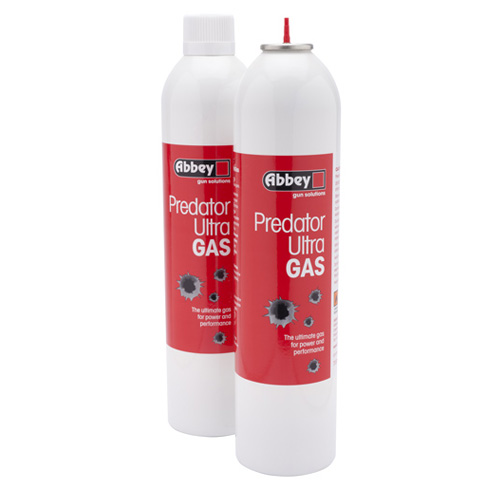 Predator Ultra Gas is the ideal, high-performance gas for blowback guns.
Our gas formulation includes new and improved, lighter silicone based lubricant which provides improved muzzle velocity for flatter trajectories and greater accuracy.
Results are more consistent giving greater reliability and cold weather tests have shown higher muzzle velocity with more consistent power than other leading brands.

Benefits:
This lubricant is a light oil which spreads evenly and consistently through the working parts of your guns to give high reliability under combat conditions
Non-greasy structure makes maintenance and cleaning quicker and easier
Gas pressure remains unchanged so airsofters will see no damage to their guns
A large, high-pressure can is crammed full of high power gas providing considerably more shots per can than other brands





Available in 700ml aerosol cans.

Need a handy sized gas for refills in the field? Abbey Predator Mini Ultra, provides the same power in a convenient, portable can.

Alternatively, use Abbey Predator Gun Gas 144a for indoor skirmishes, lighter guns or in hot weather.

Tom tells us Abbey Gases avoid Jams

About Gas Ultra and Brut Sniper Gas; these products are very good and avoid jams
in airsoft guns. We are very satisfied about these products. It is also an
advantage to be sure of deliverings; which is a difficult item in airsoft
business.


Tom Huycke - ­ Van Nieuwenhuyse BVBA
www.airsoft-shop.be

17/10/12
We have found Abbey Supply Company Ltd to be a great company to work with.
- Zero One Airsoft Read more....
Steve Banks MD of Combat South has been using our products since 2003.
Read more....